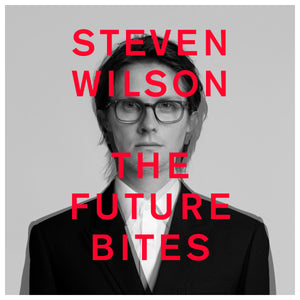 THE FUTURE BITES is out now. 

Co-produced in London by Wilson with David Kosten (Bat For Lashes, Everything Everything), THE FUTURE BITES sees Wilson exploring contemporary addiction and the lasting effect of ever-increasing technology on our daily lives. The album marks his most inventive and far-reaching musical construction to date, spanning soaring acoustics, lush electronica, relentless bass-driven grooves, murky funk, and so much more, all linked through powerfully focused songcraft and this one-of-a-kind artist's always unique creative vision.
Hailed by Rolling Stone's David Fricke for his "fighting spirit and truly progressive ideals in rock composition, group improvisation and emotionally authentic storytelling," Wilson will celebrate THE FUTURE BITES with an equally ambitious live schedule, promising "a series of special events at larger venues, something on a grander and more immersive scale." 
Tracklist:

1. UNSELF
2. SELF
3. KING GHOST
4. 12 THINGS I FORGOT
5. EMINENT SLEAZE
6. MAN OF THE PEOPLE
7. PERSONAL SHOPPER
8. FOLLOWER
9. COUNT OF UNEASE

The physical release of this album has been delayed to mid-February.