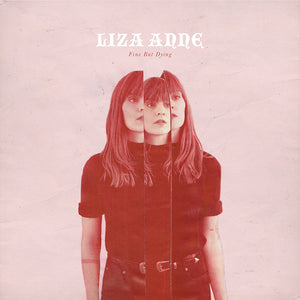 Tracklist:
1. Paranoia
2. Small Talks
3. Panic Attack
4. Socks
5. Closest To Me
6. Turn For The Worse
7. Kid Gloves
8. Control
9. Get By
10. I Love You, But I Need Another Year
11. I'm Tired, You're Lonely
"Growing up, people would always say I was too happy to be depressed, or too social to have anxiety," says Liza Anne Odachowski, the critically acclaimed songwriter better known these days by her stage name Liza Anne. "In their eyes, because I was one thing, I couldn't also be something else. I think we all exist in duality, though. I can be everything and nothing all at once."
Duality is at the core of Liza Anne's arresting new album, 'Fine But Dying,' her debut release for indie powerhouse label Arts & Crafts. Synthesizing the elegant sincerity of Angel Olsen with the wry lyricism of Courtney Barnett and the unapologetic candor of Feist, the music is both tough and vulnerable, bold and withdrawn, a helping hand and a middle finger. Firing on all cylinders with distorted alt-rock guitars and explosive drums one minute, hushed and delicate the next, it's an eclectic collection that reflects the messy complications of growing up in the modern age, as the 23-year-old grapples with the fallout of falling in love, reckons with the patriarchy, and stares down the panic disorder she refuses to let define her. 'Fine But Dying' is the sound of an artist taking total control of her life and her art, a proud misfit crafting an aggressively infectious kiss-off to an industry (and a society) that's tried to box her in from day one.