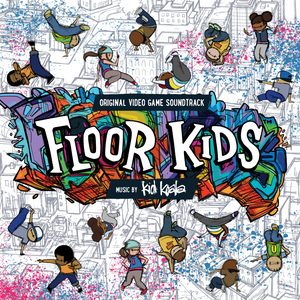 Release Date: April 27th, 2018
Floor Kids is the breakthrough breakdance battle video game with original music by legendary scratch DJ and producer Kid Koala. Featuring 42 tracks and 71 minutes of original instrumental hip-hop and break music from the game, the Floor Kids Original Video Game Soundtrack is a timeless journey across every era of the sound, cycling through silky 70s funk, thumping 80s 808s, granular 90s 12 bit, and 00s synth funk. An original concept by animator bboy Jon Jon and Kid Koala, Floor Kids has captured the essence of what makes breaking an art form unlike any other, blending together sound, style, and movement in a radical blast of freestyle expression.
The soundtrack is available in digital, limited edition double-vinyl gatefold (w/ album download), and an exclusive DELUXE vinyl edition including download of the Floor Kids video game on Nintendo Switch. Vinyl product will ship by April 27. All products come with a free download of Kid Koala's 18 minute Floor Kids Megamix.
Tracklist:
1. Greetings Dance Warrior
2. The Fundamentals
3. The City
4. Blue Prints
5. The Studio
6. Lab Time
7. One
8. Puttin' In Work
9. The Corner
10. Keys & Cuts
11. Afternoon In August
12. Cardboard & Breeze
13. The New Forum
14. Five Spot Stomp
15. The Metro
16. Big Trouble In Little Battle
17. Commuters
18. Turn Style
19. The Grocery Store
20. All-Stars
21. Build Your Crew
22. Bread & Butter
23. The Art Space
24. Laser Tagz
25. Function And Flyness
26. Smock Jams
27. From Spark To Flame
28. Robo Tronix
29. The Arcade
30. Virtual Field
31. Frame By Frame
32. Pinballer
33. The Venue
34. The Showdown
35. Bend Your Moves Around The Time
36. Boogie Down
37. The Peace Summit
38. Matter And Motion
39. Your Crew Your Strength
40. The Ones
41. Denouement Bonus Beat
42. The Rooftop