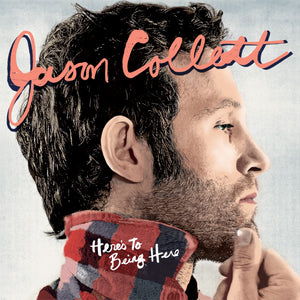 Arts & Crafts is set to release the third collection of new songs by Jason Collett. The new album, titled Here's To Being Here, will be released throughout North America on February 5, 2008.

Here's To Being Here captures the essence of Jason's live performances and features the energy and musicianship of his touring band, Paso Mino. "This is very much an old school guitar record, in the sense of it being very tasteful that's one of the greater accomplishments of this record" says Collett, "recording in bigger spaces and live off the floor allowed us to capture some of the band energy. This allowed for spontaneous creations, which led to many wonderful little accidents."

Here's To Being Here was recorded and produced in Collett's hometown of Toronto, ON, by musician/producer Howie Beck. The album also features guest performances by fellow Broken Social Scene member and Apostle of Hustle front man Andrew Whiteman, as well as long time friend Tony Scherr (Norah Jones, John Scofield, Bill Frissell) and Liam O'Neil (The Stills) to name a few.