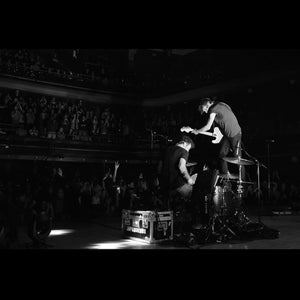 Vinyl includes 2XLP with 16-page booklet and poster. Pre-Order now to receive by the release date in October 2020. 

Massey Fucking Hall, the upcoming live album from Japandroids, captures the power and intensity that have made the band one of Indie Rock's most beloved live acts. The Canadian duo on guitar and drums, bring a wall of sound that delivers a full dose of raw and unhinged emotion to sixteen fan favourites that span the band's storied career. Sonically this is Japandroids perfection, capturing the energy that has long made their live shows so electrifying; performed at the legendary Massey Hall in Toronto. 
Tracklist:
1. Near To The Wild Heart Of Life
2. Fire's Highway
3. Heart Sweats
4. Arc Of Bar
5. Younger Us
6. North East South West
7. The Nights Of Wine And Roses
8. No Known Drink Or Drug
9. Continuous Thunder
10. Young Hearts Spark Fire
11. Sovereignty
12. The House That Heaven Built
Album out June 19, 2020.