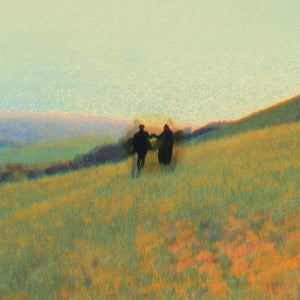 Release Date: October 5th, 2018
Tracklist:
1. No Love For The Wild
2. The Way
3. In This Time
4. Sign
5. Fighter
6. Matter
7. New Compassion
8. Your Love
9. Special
10. Healing
11. No Love For The Wild (Reprise)
The lifelong musical and personal partnership that is the band HAERTS consists of Nini Fabi (voice, production) and Benny Gebert (piano, guitar, production) and a bevy of other talented musicians that expands up to a searing six-piece for live performances. Having completed a transformational period, the band have partnered with Arts & Crafts (Broken Social Scene, Overcoats, Liza Anne) for the release their sophomore album New Compassion, available worldwide on October 5th.
Forming originally in their hometown of Munich Germany, the duo moved to the creative cauldron of Brooklyn, NY in 2010 to pursue their shared musical vision. The band received glowing praise from multiple press outlets including the New York Times, Consequence of Sound, The Line of Best Fit, Paste Magazine, Billboard, Noisey, Baeble, Yours Truly, the Independent and others as well as featured coverage from NPR World Café, KEXP, Sirius XMU and performed on Late Night with Seth Meyers.
The band also toured extensively including featured festival slots at Coachella, Governor's Ball, Bonnaroo, Austin City Limits, Shaky Knees, Bunbury and many others. Now, after having retreated in the Hudson Valley, HAERTS are back with their best music yet, new shows and large commercial synchs including their new anthem "Your Love", which is included in the official soundtrack for season 2 of the massive worldwide Netflix phenomenon 13 Reasons Why (released May 18th).
"The album is us. It's our past three years. It's about heartbreak, solitude, and transformation. But at the core it's about love, its power, vulnerability and infinity. We started writing it in time that felt very heavy to us, but then there was a creative impulse and it became a way of communicating something that we could only communicate through music." - Nini