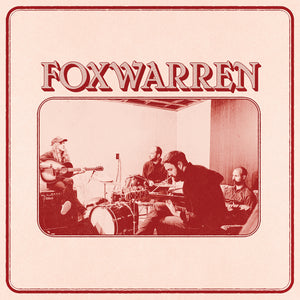 ** THIS ITEM IS CURRENTLY OUT OF STOCK. IT WILL BE BACK IN STOCK EARLY JANUARY 2019 - ANY ORDERS PLACED NOW WILL BE PROCESSED WHEN THE ITEM IS BACK IN STOCK ** 
Tracklist:
1. To Be
2. Lost In A Dream
3. Everything Apart
4. In Another Life
5. I'll Be Alright
6. Lost On You
7. Your Small Town
8. Sunset Canyon
9. Fall Into A Dream
10. Give It A Chance
Foxwarren is a page from the backstory of its enigmatic frontman, singer and storyteller Andy Shauf. The group of four childhood friends and brothers first formed as a band over ten years ago in the Canadian prairies, anchored in Regina, Saskatchewan, and nearby Foxwarren, Manitoba, home to the Kissick family farmhouse where the songs of their self-titled debut coalesced. Andy Shauf (guitars/keys/vocals), Dallas Bryson (guitar/vocals), and brothers Darryl Kissick (bass) and Avery Kissick (drums & percussion) initially bonded over Pedro the Lion and drew influence from The Band and Paul Simon in the making of their self-titled debut album. Subtle and thoughtful, it draws parallels to Shauf's solo work while leaning more on collaboration and looseness than The Party's meticulous arrangements. First single "Everything Apart" is a web of robotic bass and tense, metric drums that propels Shauf's narrative forward. Album opener "To Be" is a Shauf-stamped cascading ballad that bears the raw and natural closeness of the musicians. Where Shauf leaves space for orchestration, Foxwarren takes time to ruminate on passages and themes. Propped up by warm driving rhythms and Andy's familiar voice, coloured with soft electronics and coarse guitars, it's a sincere rock n' roll record that captures the feeling of brothers pushing each other further.