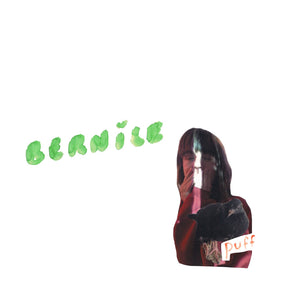 DOWNLOAD ACCESSED THROUGH ACCOUNT. PLEASE CREATE UPON CHECKOUT.
***Bernice 'Puff' (Coke Bottle Clear Vinyl, LTD to 500) selling exclusively through Vinyl, Me Please***

***Pre-order Puff and get an instant download of "David" and "Talking About Her"
Release date: June 16th 2017
Bernice is the musical project of Toronto-based vocalist/songwriter Robin Dann. Bernice pairs the soulful vocal melodies of artists such as Sade and Meshell Ndegeocello with the playful sonic freedoms of Deerhoof and Dirty Projectors.

Born to a musical family, the daughter of a symphony harpist and the former Toronto Symphony Orchestra's principal violist, and a graduate of Goldsmiths' MA in Music, Dann's background, formal training, and experimental sensibilities developed into Bernice's sparse arrangements and pop-minded songwriting, often following curious and unexpected paths.
Bernice's members and collaborators including longtime Owen Pallett collaborator Thom Gill (keyboard/sampler) as well as Colin Fisher(guitar), Daniel Fortin (bass), Philippe Melanson (drums), and Felicity Williams (supporting vocals). All are professional musicians from Toronto's music community and members of Owen Pallett, DIANA, John Southworth, Bahamas, Martha Wainwright, The Barr Brothers,and many others.
Bernice have been performing actively since late 2010 and have released one full-length album ( what was that, 2011), an EP ( when I k now how to climb, 2013), and a "cassingle" in 2015, all released independently. The band signed with acclaimed Toronto-based label Arts & Crafts to released their second full-length album in 2017.
Bernice's upcoming album was co-produced by Grammy Award-winner Shawn Everett (Alabama Shakes, Lucius) and Matt Smith (Owen Pallett) and co-mixed/mastered by experimental musician Sandro Perri (Polmo Polpo).