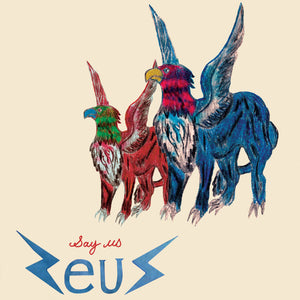 Formed by Mike O'Brien and Carlin Nicholson along with Neil Quin and Rob Drake, Zeus came together much in the same way as The Band, performing primarily as a backing band - in this case, for acclaimed Toronto songwriter Jason Collett both on the road and in studio. Similarly, Zeus features three vocalists/songwriters who swap between guitar, bass and organ, with Drake holding down the rhythm on drums. Zeus released their debut EP,
Sounds Like Zeus
, in June, to tremendous acclaim from the Canadian media.
Say Us
was recorded and produced by O'Brien and Nicholson in their Toronto studio and mixed by Robbie Lackritz (Feist). The album shows a band with an incredible ability to write smart pop hooks with jangling electric guitars, three-part harmonies; classic rock n' roll. Say Us expands upon the ideas put forth with
Sounds Like Zeus
, though showing even greater range and diversity. Of the new tracks, You Gotta Teller has been a live favourite these past months, while River By The Garden brings elements of gospel to the mix.
Say Us
is an album for the ages.