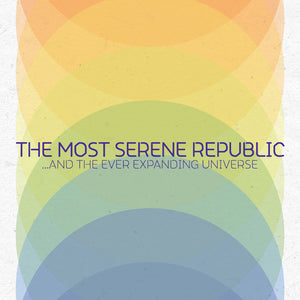 Out of the serenity of Milton, Ontario returns their most ambitious export, the young sextet known as The Most Serene Republic. Their third full-length,
...And The Ever Expanding Universe
is available now on Arts & Crafts. Produced by Dave Newfeld (Broken Social Scene, Super Furry Animals, Los Campesinos!),
...And The Ever Expanding Universe
shows The Most Serene Republic confidently striding forward with a more mature, diverse and exhilarating sound.
With two acclaimed albums and an EP already under their belts, these just now 24-year old musicians have already been performing together for a half-dozen years. Very much a product of their wide ranging personalities, the band is led by Ryan Lenssen's classical piano and obsession with musical history, never mind his obsessive attention to detail, and singer/lyricist Adrian Jewett's Joycian stream-of-conscious lyrics and larger then life stage personality. The entire band's excellence with their instruments is undeniable and is proven both live and on album.