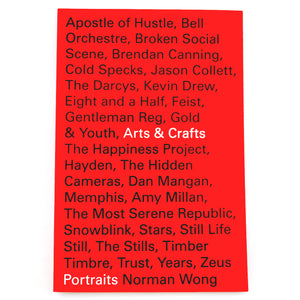 'Portraits' is a stunning collection of photography, featuring artists from the Arts & Crafts roster as shot by fashion and celebrity photographer Norman Wong. A longtime friend of Arts & Crafts, Wong has had a unique opportunity to document and work with musicians of A&C through the years.
"I am tremendously excited to present the body work that represents my start as a photographer, and at times has been one of the reasons I kept going.
These are photographs of people who mean a lot to me. They are my friends, family and heroes and it's a special honour to finally show this private collection as part of AC10 celebrations."
- Norman Wong
A portion of the proceeds from the sale of this book will be donated to Testicular Cancer Canada.

Design and layout by Colin Bergh Studios
Softcover book
Limited Edition of 250