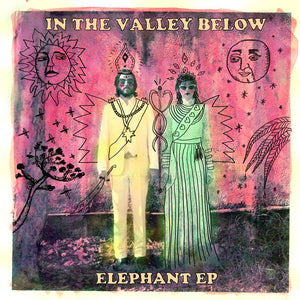 He's from Memphis, equally steeped in Link Wray and Phil Collins. She's a small town girl raised in Muskegon, Michigan, who found her songwriting inspiration while living on a small boat in the West Indies. Jeffrey Jacob and Angela Gail met in Los Angeles, playing guitar and bass, respectively, in a loud, grungy guitar band, but the seeds of In the Valley Below were planted one night at SXSW, when they realized there was something special in the passion and chemistry they shared on-stage.
The duo's debut Arts & Crafts album could well be the soundtrack to a David Lynch movie, equal parts atmospheric and gauzy, with sharp hooks and sing-along choruses, inspired by faithful archetypes and dealing with powerful subjects like sex, crime and religion, as on the first single, "Peaches," a celebration of mutual attraction and sensuality that Jeffrey jokes could just be about fruit.
The attraction between the two is palpable, but hard to define. For In the Valley Below, one plus one equals three, with Angela's Americana folk-country and classic rock vibe melding with Jeffrey's penchant for Anglo art-pop and heavy, Memphis-infused riffs into something completely different.
The two wrote, produced, engineered and recorded their own songs in a home studio. Two of the 11 songs on their debut are mixed by the band, with the others handled by John Congleton [St.Vincent, David Byrne], Dave Sardy [Oasis, Band of Horses], Lasse Marten [Lykke Li, Peter, Bjorn & John]
Angela and Jeffrey never even intended for In the Valley Below to be a performing band, so it turned out to be a pleasant surprise when the songs were so good they demanded to be played for people. With a debut EP released through new French indie label, Oskar, and a constant touring schedule, In The Valley Below are paving their own path. During days off, back home in Echo Park, CA, they make time to brew their own brand of beer, which may soon be available for purchase. And the rest, as they say...is mystery.
Filled with emotions from guilt to hope, and encouraging voyeurism, when they announce to their audience, "We are In the Valley Below," they immediately invite us to join their communal world, one with no boundaries and whose limits are only defined by our collective imagination.
Tracklist:
1. Bloodhands (Oh My Fever)
2. Pink Chateau
3. Hold On Tight
4. Break Even
5. Elephant