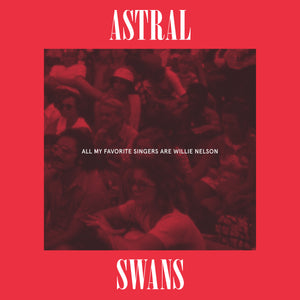 Release Date: February 24, 2015
Astral Swan's All My Favorite Singers Are Willie Nelson is a collection of stark psychedelic folk from the unfiltered neuroses of Calgary's Matthew Swann. Songs steeped in universal anguish, marveling at the world's knack for enterprise and cannibalism, come across instead as subtle, reassuring lullabies. These are quiet, relatable anthems for the outsider set, balancing gentle melodies on Swann's self-obsession with moral fallibility. On first single "Beginning Of The End", Swann delves into the album's various drug states in his sweetly apprehensive tone, a lowly guitar dancing loosely with intoxicated children, asking: "Who told the kids in the yard that they're mostly dust? Now they just stay drunk. Keep getting more fucked up".
Equally inspired by serene 60's folk, 80's no-wave alienation, and the insouciance of 90's grunge, Astral Swans' music is spacious yet constrained, hauntingly personal and oddly sincere. The skeletal "Let Their Faces All Blur Out" races softly with the punk rock abandon of early Sonic Youth and Eric's Trip; "What Calms You Down, Freaks Me Out" bears the ominous pleasance of Syd Barrett, Arthur Russell, Nick Drake, and fellow Calgarian Chad VanGaalen. More structured than Swann's Extra Happy Ghost!!! project (produced by VanGaalen), this album's experimental spirit denies the haphazard "singer-songwriter" label that some might attach to Astral Swans.
Set for release on Dan Mangan's Madic Records on February 24, these twelve songs lavish in Swann's startlingly sardonic reflections, in his own words, "confronting our strange ways of experiencing personhood, in the moral gorge between ideals and inadequacies". Tracked live in Swann's living room, and later embellished in an old Calgary warehouse with local experimental/improv mainstay Brad Hawkins (Ghostkeeper), All My Favorite Singers Are Willie Nelson is flawed if not for its air of accidental perfection, normalizing existential struggle with rhythm and harmony, a natural marriage of the sweet to the acrid.
Tracklist:
1. There Are Ways To Get What You Want
2. Beginning Of The End
3. Let Their Faces All Blur Out
4. Please Don't Leave Me Strange
5. What Calms You Down, Freaks Me Out
6. You Carry A Sickness
7. Park Street
8. September
9. Holly
10. My Conscience Don't Work In The New World
11. Attention
12. Grass Girl