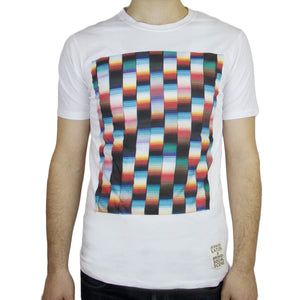 Introducing the unisex Broken Social Scene Jessica Eaton T-Shirt designed by Jeremy Laing.
-Available in sizes 1 (XS) to 4 (L)

-100% cotton

-Made in Canada

-Machine wash cold and hang to dry

JEREMY LAING X ARTS & CRAFTS
A T-Shirt Collection celebrating Canadian music, art & fashion
NET PROCEEDS DONATED TO:
MUSICOUNTS
Jessica Eaton x Broken Social Scene
A stunning visual from Canadian photographer Jessica Eaton translates as an ode to super-group Broken Social Scene. Composed through a range of variables including light, shape, and exposure, Jessica's piece titled "Interrgb" boldly lives front an center on this extra soft T.

"I would have no ability to make music myself, but I don't know how I would live without it. it keeps me going in the studio. I often think of my work as being musical in a visual sense and what concepts coming from music, such as dissonance or counterpoint, might mean or how they could be interpreted in a visual concept"
-Jessica Eaton

Jessica Eaton x Broken Social Scene is a part of a 5 piece collection of ltd. ed. T-shirts designed and curated by Canadian fashion designer Jeremy Laing for the 10th anniversary of Arts & Crafts.

Net proceeds from the sales of these T-Shirts will be donated to Canadian music education charity, Musicounts. Made in Canada- all shirts were printed and manufactured with care in Toronto, Ontario.