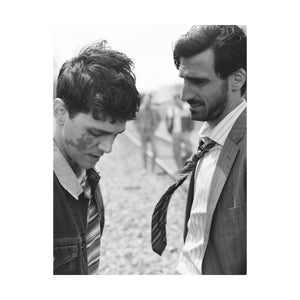 Le compositeur et pianiste québécois Jean-Michel Blais fera paraitre le 25 octobre prochain, la trame sonore du film Matthias & Maxime du réalisateur Xavier Dolan. Il a été choisi par le célèbre acteur et cinéaste pour écrire la musique du film, qui a été présentée en première mondiale le 22 mai dernier au Festival de Cannes. Blais s'est d'ailleurs mérité Cannes le Prix d'honneur du jury de l'organisme Cannes Soundtrack qui récompense depuis neuf ans la meilleure musique de film des longs métrages de la compétition officielle du Festival de Cannes.

La musique de la trame sonore de Matthias & Maxime a été développée en studio en étroite collaboration entre Blais et Dolan, en utilisant des techniques dérivées de l'improvisation avec la musique de Franz Schubert servant d'inspiration. Fait inhabituel pour un long métrage, certaines pièces ont été d'abord créé, la scène a été tournée sur la musique, puis monter pour l'adapter à la musique plutôt que l'inverse.

Directement approché par Dolan, Blais était impatient de prendre en charge le projet: « J'ai été touché, ému, incrédule… sans lire le script, j'ai tout de suite accepté. Après avoir grandi avec tous les films de Dolan, ce fut un choix simple d'annuler mes vacances et de me mettre au travail. Après un processus assez peu orthodoxe, nous avons fini par garder les démos, improvisés en studio – variations sur un Thème Schubert – créer un paysage sonore musical cohérent que Xavier a utilisé pendant le tournage et le montage.

Récipiendaire du Prix Liberia décerné au meilleur album de musique classique aux États-Unis et listé sur la courte liste du Prix Polaris, Dans ma main a su rejoindre de nombreux mélomanes partout autour du monde de par son style et sa couleur unique. En plus de se replonger dans cet album, ce concert sera l'occasion de découvrir en spectacle les œuvres de la trame sonore du film Matthias & Maxime. Un spectacle qui mettra terme à une tournée mémorable et une chance unique d'être conquis par l'univers envoûtant de Jean-Michel Blais.
Tracklist
1) L'amitié
2) Les feuilles mortes
3) Le lac
4) La blessure I (skit)
5) La blessure I
6) Le souper
7) La solitude (skit)
8) La solitude
9) La blessure II
10) La ferme
11) Un autre amour
_________
French-Canadian composer and pianist Jean-Michel Blais provided the soundtrack to Canadian director Xavier Dolan's new film, Matthias & Maxime, released on Arts & Crafts on October 25. The Montreal-based composer was hand-picked by the acclaimed actor and film-maker to write the music for the film, which received its world premiere at the 2019 Cannes Film Festival where Blais' score received a special jury mention at the Soundtrack Award gala.
The music for the Matthias & Maxime Official Soundtrack was developed in close collaboration between Blais and Dolan in the studio, using techniques derived from improvisation, with the music of Franz Schubert serving as a point of inspiration. Unusually for a feature film, certain tracks were developed first, the scene was shot to the music, and then edited to fit it, rather than the other way around.
This is Jean-Michel Blais' first composition for film.