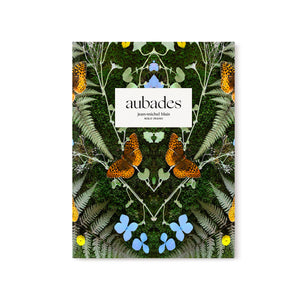 Ces partitions comprennent les 11 compositions de l'album 'aubades' (2022) par Jean-Michel Blais dans une adaptation unique. Les arrangements originaux orchestrés pour 12 instruments ont ici été réduits pour piano solo. En plus s'y retrouve en exclusivité la pièce inédite 'la chute'.

aubades
murmures
passepied
nina
ouessant
if you build it, they will come
amour
yanni
absinthe
carrousel
doux
flâneur
la chute
//
This sheet music book includes the 11 compositions from the album 'aubades' (2022) by Jean-Michel Blais in a unique adaptation. The original arrangements orchestrated for 12 instruments have here been reduced for solo piano. Moreover appears an exclusive new piece 'la chute'.
aubades
murmures
passepied
nina
ouessant
if you build it, they will come
amour
yanni
absinthe
carrousel
doux
flâneur
la chute