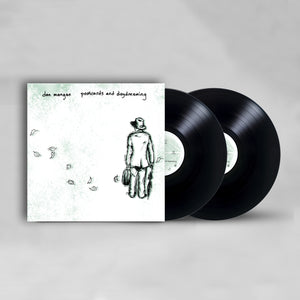 Postcards & Daydreaming is the debut album from multiple JUNO Award-winning singer-songwriter Dan Mangan. Originally released independently in 2005, the album showcases a young artist with a sharp lyrical talent and undeniable ear for melody years before becoming one of Canada's most beloved songwriters. In hindsight, the album demonstrates a transparent rawness of Mangan's youthfulness and potential as a budding writer and performer. Subtle and stripped-down at times, but with enough sonic detail to keep the listeners guessing, the songs range from somber and melancholic folk, to 7-minute long chamber pop ballads. Featuring long-time fan favourites "Journal Of A Narcoleptic" and "So Much For Everyone," Postcards & Daydreaming is an essential release in a storied and dynamic career.
Available for the first time on vinyl. Single-wide jacket, standard paper sleeves, 140 gram double LP (45 RPM). Includes a download card.
Tracklist:
1.
"Not What You Think It Is"
2.
"Unnatural Progression"
3.
"Above the Headlights"
4.
"Journal of a Narcoleptic"
6.
"So Much for Everyone"
10.
"Some Place to Come Home To"
11.
"Reason to Think Aloud"