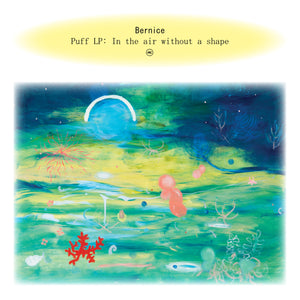 Tracklist:
1. Glue
2. Passenger Plane
3. David
4. One Garden
5. He's The Moon
6. St Lucia
7. Boat

Born to a musical family, the daughter of a symphony harpist and the former Toronto Symphony Orchestra's principal violist, and a graduate of Goldsmiths' MA in Music, Dann's background, formal training, and experimental sensibilities developed into Bernice's sparse arrangements and pop-minded songwriting, often following curious and unexpected paths.
Bernice's members and collaborators including longtime Owen Pallett collaborator Thom Gill (keyboard/sampler) as well as Colin Fisher (guitar), Daniel Fortin (bass), Philippe Melanson (drums), and Felicity Williams (supporting vocals). All are professional musicians from Toronto's music community and members of Owen Pallett, DIANA, John Southworth, Bahamas, Martha Wainwright, The Barr Brothers, and many others.
Bernice have been performing actively since late 2010 and have released one full-length album (what was that, 2011), an EP (when I know how to climb, 2013), and a "cassingle" in 2015, all released independently. Bernice's 2017 breakout Puff EP on Arts & Crafts was praised by Pitchfork ("intricate, dream-like music from deeply emotional lyrics and woozy electronic beats"), NPR ("deeply textured, largely experimental songs filled with wondrous and mysterious sounds"), Stereogum (Best EPs of 2017), Exclaim (#1 EP of 2017), Pigeons and Planes ("one of the most interesting bands out of Toronto right now"), The FADER, Noisey, Zane Lowe, and more.