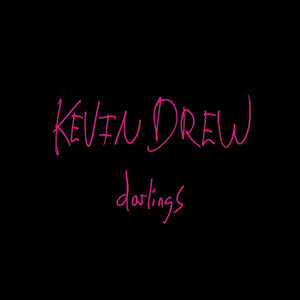 Darlings shows Kevin Drew growing from his role in indie vanguard Broken Social Scene to create a breakthrough statement of personal artistry. Darlings is also his first solo album that is truly, to put it bluntly, solo. If Drew's 2007 effort Spirit If... was his inaugural step beyond the decade-long shadow of his former band, Darlings spotlights Drew with seven years more experience and maturity. Darlings reveals a more focused and refined sound; more honest, revelatory songwriting, with Drew's craft concentrated on lyrical and emotional connections, less so than guitar pedals and studio jams.
"Synth-heavy and prone to slow-building torch songs, Darlings turns out to be a fine showcase for Drew's expressive voice and distinctive obsessions." - Pitchfork
Tracklist:
1. "Body Butter"
2. "Good Sex"
3. "It's Cool"
4. "Mexican Aftershow Party"
5. "You Gotta Feel It"
6. "First In Line"
7. "Bullshit Ballad"
8. "My God"
9. "You In Your Were"
10. "You Got Caught"
11. "And That's All I Know"