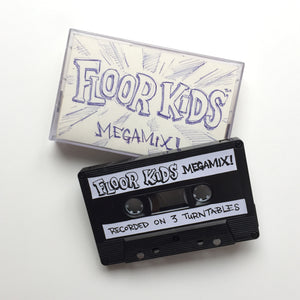 this is a digital product
Kid Koala's "Floor Kids Megamix" is a raucous blend of cuts from the Floor Kids Original Video Game Soundtrack mixed live on three turntables. The Megamix is available on its own or as a free download with album purchase.
"I recorded this shortly after receiving the test pressings of the Floor Kids Video Game Soundtrack vinyl. This is a live mix that will give you a taste of some of the grooves and battle tracks on the record. I labeled the 12 o'clock point on each record with some stickers and just hit record, needle dropping, quick cueing, and back spinning loops as you would do when deejaying at a break battle. There are also a few spoken word elements from the games story cutscenes scratched in there, which reveal some of the in-game philosophy that will help you become a better player/dancer/human!"