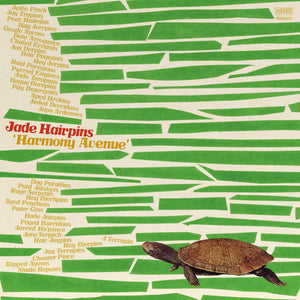 Originally conceived as an addendum to Dose Your Dreams, Fucked Up drummer Jonah Falco and songwriter Mike Haliechuk's debut album as Jade Hairpins, Harmony Avenue, is a collection of foraged pop songs with electronic landscaping about human behaviour. With Falco stepping up as frontman and main lyricist for the first time, Hairpins are here to challenge, confound, and sparkle their way into listeners' hearts with a sound he describes as "straddling the post-post-punk of New Order, Scritti Politti, and Orange Juice, with the primordial sense of humour and absurdity of Ian Dury and the Blockheads, Television Personalities, or The Monks." Each song on Harmony Avenue was conceived real-time in studio, then edited and crafted together to become the rousing and infectious journey that it is. The London and Toronto based band focused on creating stories for character-based writing not unlike those explored to epic proportions on Fucked Up records, only to reveal an emotional, thoughtful, and ultimately ebullient sonic universe entirely its own.

Tracklist:
1. J Terrapin
2. (Don't Break My) Devotion
3. Father Coin
4. Yesterdang
5. Post No Bill
6. Broadstairs Beach
7. Dolly Dream
8. Mary Magazine
9. Truth Like a Mirage
10. Motherman 
Out now
**Please note any orders placed with one or more pre-order items will not be shipped until the release date of the latest pre-order item. If you have any questions or concerns about our shipping policy, please give us a call at 416-203-2203.