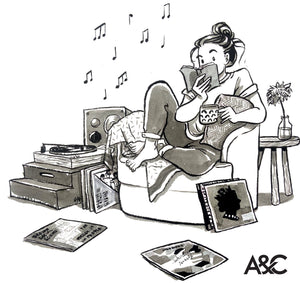 Every other month, A&C Record Club members will receive a package with one brand new release and one classic Arts & Crafts title. Subscriptions start at $25.00/month. If you already own the record we send you, you can swap it for free. Members also receive 25% off all store items.
Over its 20 years as a record label, Arts & Crafts has built one of the most storied and dynamic catalogues in contemporary Canadian music: A collection of indie classics from Broken Social Scene, Feist, Jason Collett, and Stars, era-defining voices like Gord Downie, Hayden, and Sarah Harmer, essential singer-songwriters like Dan Mangan, Tim Baker, Hannah Georgas, Frazey Ford, and Andy Shauf, genre-bending iconoclasts like nêhiyawak and TR/ST, and adventurous instrumentalists like Jean-Michel Blais, Jacques Greene, BADBADNOTGOOD, and Kid Koala.
To help keep your record collection up-to-date, Arts & Crafts is now offering a subscription service for $25.00/month. Every other month, members will receive a package with two records: one brand new title and one must-own title from the Arts & Crafts catalogue. 

** The Arts & Crafts Record Club is currently only available to customers in North America**