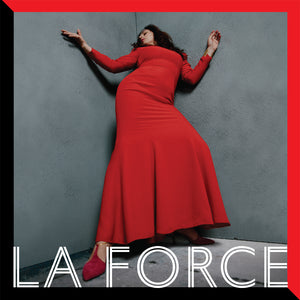 Out Now
Tracklist:
1. The Tide
2. TBT
3. Ready To Run
4. Lucky One
5. Upside Down Wolf
6. You Amaze Me
7. Mama Papa
8. Can't Take
9. Epistolary Love Song
La Force is Ariel Engle, vocalist and newest member of Broken Social Scene, whose acclaimed 2017 album Hug of Thunder features her undeniable voice on "Stay Happy" and "Gonna Get Better." As La Force, balancing grace and ferocity, she creates a dusky universe of godless devotional music that comes straight from the beating heart.
La Force's debut self-titled album is a constellation of nine enchanting songs, dark and glinting with the duality of motherhood and individuality. La Force is orbital soul music – a beautiful balance of analog and synthetic sound, driven by Engle's emotion and spirituality at its core. Borrowing her identity from the tarot card representing Strength – depicting a woman with gentle dominance over a lion – 'La Force' captures the tender / powerful balance of the music.
The new single "Ready To Run" is a scrappy taunt: an auspicious fantasy about the disenfranchised rising up – one that feels more urgent yet distant with every recent day. In Engle's words:
"This is a song about the refugee crisis and the politicians who claim moral superiority while doing nothing to help their fellow human. The crisis is biblical in scope and yet even self-avowed christian politicians are not moved by compassion. What does it take?"
"Ready To Run" is led by infectious phrasing, vivid bass, and momentous drums, matching the nomadic motion of the song. Engle frames the present moment with her incisive lyrics: People on the move / On oceans bridges and trains / As my good friend says / It's armageddagain again.
The song is one the most concrete, incisive pop concoctions across the album's exploratory range. Following two introductory singles – the subtle kaleidoscopic "You Amaze Me" and the irresistibly sedate "Lucky One" – Engle shows her versatility as she glides between comfort and urgency, dim and warm with a tender confidence.
Written by Engle (vocals, bass, guitar) and featuring husband and Broken Social Scene-bandmate Andrew Whiteman (Apostle of Hustle), Liam O'Neill (SUUNS) on drums, and co-producer Nyles Spencer (with Charles Spearin) on keys, "Ready To Run" entrenches the bold sonic palette of La Force, with threads of influences as disparate and natural as PJ Harvey, Can, and Aaliyah.
Stepping up to the role first helmed by the immeasurable talents Leslie Feist, Emily Haines (Metric), and Amy Millan (Stars), Engle brings a palpable energy to the familial power of Broken Social Scene. Her debut as La Force is an artistic statement of individuality and pluralism: an ode to the self, and to the loss of self: a reverential howl to the all-knowing unknown; a succumbing to the force that vibrates us all.